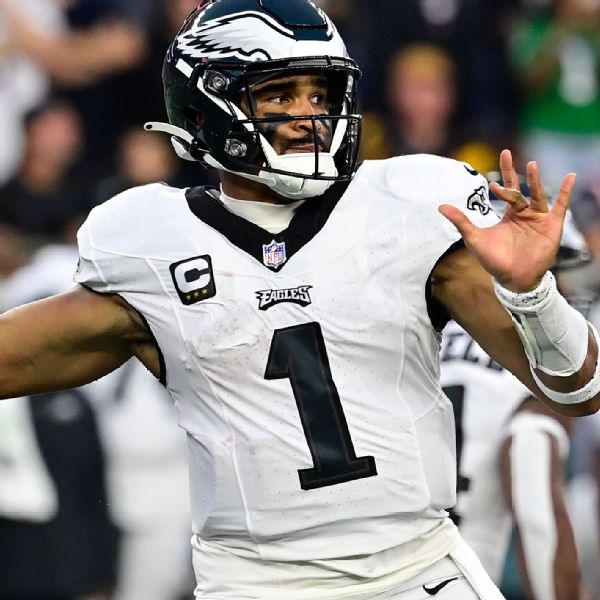 FOXBOROUGH, Mass. — Philadelphia Eagles coach Nick Sirianni expressed regret over not playing quarterback Jalen Hurts and the offensive starters during the preseason following a sluggish offensive performance in a narrow 25-20 win over the New England Patriots on Sunday.
"I'll definitely re-evaluate some of the preseason stuff next year," he said. "Maybe I should have played [Hurts] a series or two this preseason, and I already wrote that in my notes.
"You know, second thought, if I had to do it over again right now, I would say, yeah, I would have played starters one or two drives in the preseason."
Hurts ended 22-of-33 for 170 yards with a touchdown and an interception. He ran nine times for 37 yards and lost a fumble.
The Eagles went three-and-out on four straight possessions in the first half. Last season, the Eagles only had one game with four three-and-outs: their Week 17 loss to the Saints with Gardner Minshew at quarterback.
Philadelphia managed just one touchdown drive, tied for the fewest in any Hurts start.
"Winning is the only thing that matters," Hurts said. "I think we obviously have things that we need to work on and have to be better in those situations when the ball is in my hands, and I take full accountability for that. But good thing about it is we get the opportunity to play on Thursday [against the Minnesota Vikings]."
Like other teams across the NFL, the Eagles have been trending away from playing their starters in the preseason. They prefer to get their work against other teams in joint practices because it's more of a controlled setting. It's paid off from an injury perspective, as they entered Week 1 with all of their starters healthy.
Teams that don't play their quarterbacks during the preseason tend to struggle out of the gate, however, with a collective record of 7-13 over the last two seasons, per ESPN Stats & Information.
"That's a long time from now. I couldn't care less about that," Hurts said when told of Sirianni's comments. "We won the game. That's a long time from now. We have a game on Thursday and we are eager to prepare for that one."