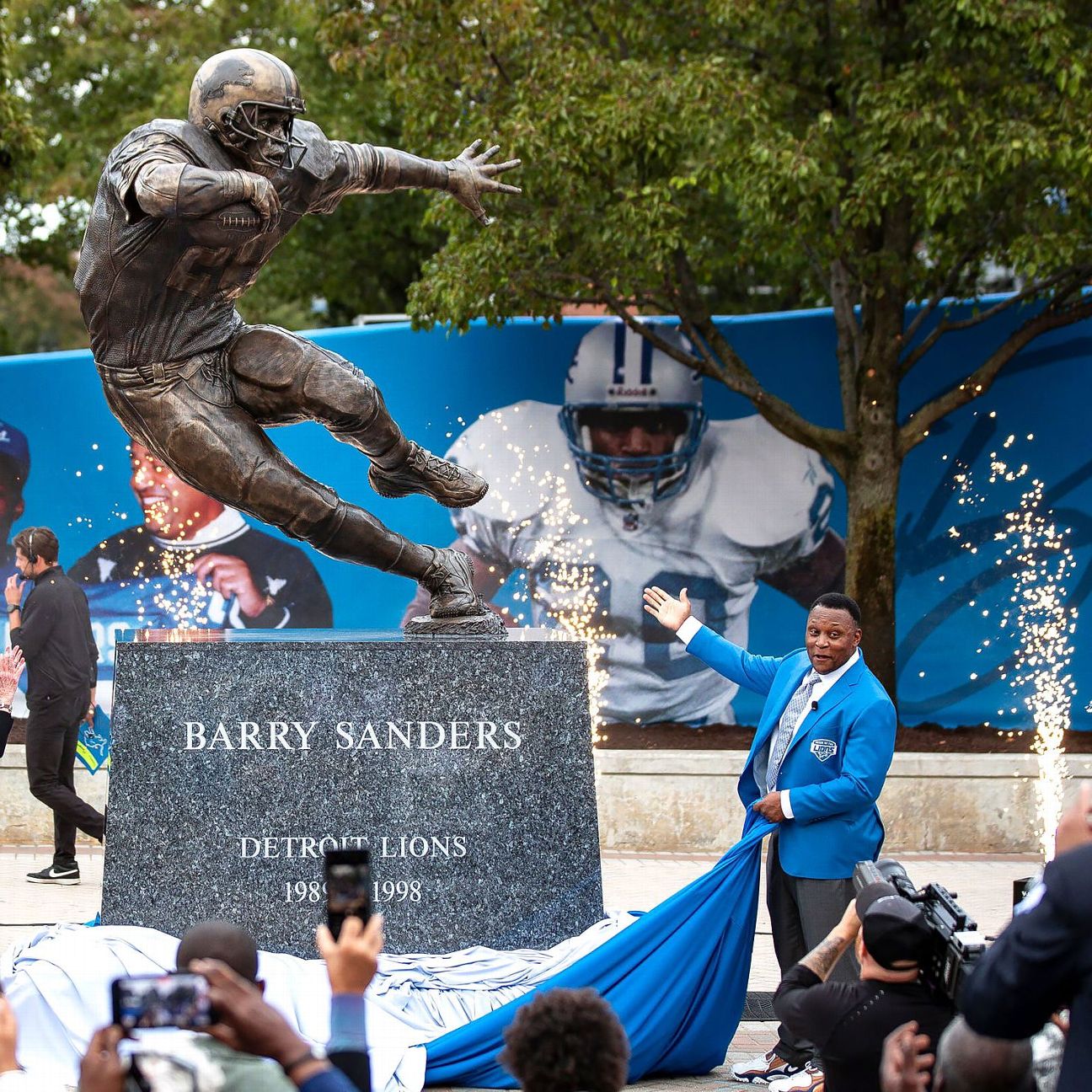 DETROIT — An 8-foot bronze statue of one of the greatest players in NFL history in action now graces the corner of Montcalm and Brush Streets in the heart of downtown Detroit.
On the eve of their home opener against the Seattle Seahawks, the Detroit Lions immortalized Hall of Fame running back Barry Sanders with a statue outside of Ford Field on Saturday in a non-public event.
Sanders is the first player in franchise history to receive the honor, and the humble star was grateful for the organization's gesture.
"You heard the saying that you give a person their flowers while they're around," Sanders said during the ceremony. "I don't plan on going anywhere any time soon, I'm just saying that saying … but if this statue could be used with that analogy, then I would have to say this is one heck of a bouquet for me, so thanks a lot. I appreciate it."
It's official! Here's your first look at the 8-foot bronze statue of #Lions great Barry Sanders – one of the greatest players in NFL history. He is the 1st Lions player to receive a statue. pic.twitter.com/utDAksffbk

— Eric Woodyard (@E_Woodyard) September 16, 2023
The statue was produced by artists Omri Amrany and Lou Cella of Fine Art Studio Rotblatt Amrany. Their Illinois-based company also created the Michael Jordan statue located inside Chicago's United Center as well as the Magic Johnson statue outside of Los Angeles' Crypto.com Arena, among many other bronze sculptures of sports legends.
Sanders admired the details of his statue, in which he is depicted performing one of his signature juke moves on a defender.
"Little things like the cut-off gloves that I wore and obviously the very alert eyes," Sanders said. "I haven't had a chance to really soak it in, but those were some of the things I noticed and obviously sort of the pose is like I'm in action."
Among those in attendance for the ceremony were Detroit Mayor Mike Duggan, former Lions coach Wayne Fontes, hip-hop legend Flavor Flav, Hall of Fame wide receiver Calvin Johnson, Lions owner Sheila Hamp and general manager Brad Holmes, as well as family, friends, former teammates and coaches. A group of season-ticket holders from Sanders' playing days was also present for the ceremony.
A tribute video was projected onto a large screen, featuring Sanders' personal journey and highlights as well as congratulatory messages from sports figures such as Jerry Rice, Peyton Manning, Emmitt Smith and Joe Dumars.
"I've always been a big fan of Barry Sanders since I was young, and he paved the way for a whole bunch of running backs right now out here in the game," Flavor Flav told ESPN. "Barry is the man. That's why I'm here."
One of the most electrifying players in league history, Sanders is fourth on the NFL's all-time rushing list with 15,269 yards in just 10 seasons. Now 55, he retired abruptly ahead of the 1999 season at age 31.
Sanders recently announced that he will release a new documentary in November in which he will discuss the "great mystery" of why he walked away from football so soon.
In 2021, Sanders was honored with a 9-foot statue at his alma mater, Oklahoma State University, outside of Boone Pickens Stadium, but he said he doesn't consider his statue in Detroit as being late.
"I think it's perfect timing," Sanders said. "Again, I'm not going to say I was sort of lobbying for it. If you look at the last 24 years that I've been out, then I think this is the perfect time to do it in my mind."
Lions rookie Jahmyr Gibbs, the No. 12 overall pick in this year's draft, became the franchise's highest-drafted running back since Sanders was selected third overall in 1989 after winning the Heisman Trophy at OSU. Gibbs said he was "starstruck" after meeting Sanders for the first time this offseason. As Gibbs prepares for his second NFL game, he said he was excited to see his idol honored while he's a part of the team.
"That's amazing for anybody to get a statue," Gibbs told ESPN. "It shows that he had a big impact on Detroit, and it shows how thankful the city is for him. I'm happy. Hopefully I can get one of them one day."
Like Gibbs, Lions third-year receiver Amon-Ra St. Brown was excited to see greatness up close while being part of the current roster. The Lions are looking for their first 2-0 start since 2017.
"I wasn't able to watch Barry play because obviously, he's a little older than me and I was too young, but I remember being a kid," St. Brown said. "I played running back my whole life, until I got to high school, and my dad would always show me highlights of Barry. That was the guy. He said he was the 'coldest dude out.' So, when I was a kid, I was Barry all the way. Barry and Reggie Bush.
"Those were my guys, and just watching his highlights, I would be like, 'This dude is crazy.' Just being here now, with him getting a statue as one of the best to ever do it, in the entire NFL history, is cool. Just to be on this team to see it is dope."