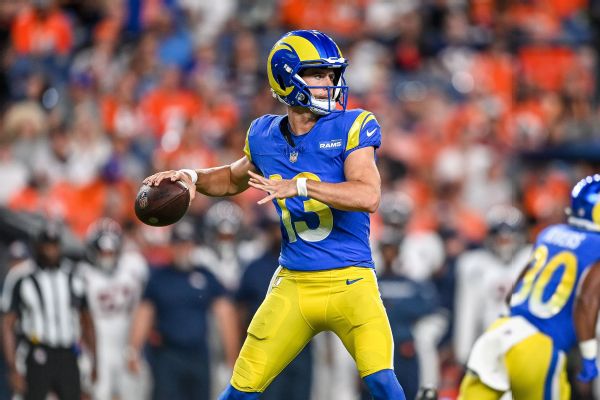 THOUSAND OAKS, Calif. — The Los Angeles Rams placed backup quarterback Stetson Bennett on the reserve/non-football illness list, coach Sean McVay said Wednesday.
McVay would not disclose specifics on Bennett's situation, but said it is not related to the right shoulder injury he was dealing with last week.
Bennett will miss at least the next four games.
"Out of respect for him and the situation, I'm going to leave all the specifics and particulars in-house," McVay said. "And I want to be able to do that out of respect for that situation, so I'm not going to really have any follow-up information or anything that I'll give in that regards."
Rams quarterback Brett Rypien will continue to back up Matthew Stafford, as he did in Week 1 against the Seattle Seahawks. When McVay was asked how moving Bennett to NFI affects the Rams' quarterback room, McVay said, "I think there are certain things that are a lot bigger than that."
"The fortunate thing for us is that Brett Rypien has been in-house," McVay said. "He's on our practice squad. He was the backup last week, and he's going to continue to be in that situation until anything changes on that note."
McVay said he has had the chance to meet with Bennett.
The Rams traded up to draft Bennett, who led Georgia to back-to-back national championships the past two seasons, in the fourth round. Bennett is the first quarterback drafted by the Rams since they took Jared Goff No. 1 overall in 2016.