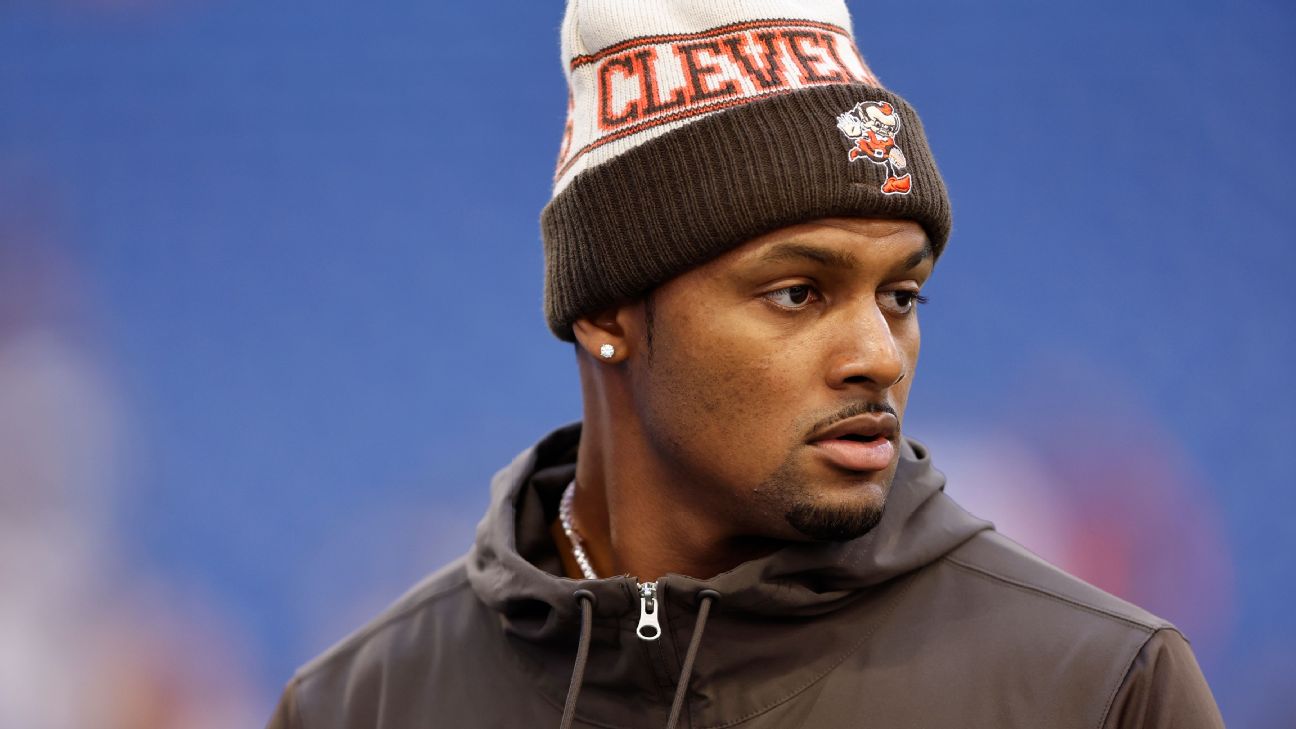 BEREA, Ohio — Deshaun Watson took 15 seconds before he could summon the words to describe his emotions, knowing he would miss the rest of another season.
"It's very tough," Watson said before another long pause. "Hurt about it."
On Wednesday, the Cleveland Browns announced their franchise quarterback will undergo season-ending surgery to repair a fracture in his throwing shoulder. An MRI performed Monday revealed Watson had a displaced fracture to the glenoid in his right shoulder. Team doctors determined Watson needed immediate surgery to avoid further structural damage.
"I'm still in disbelief. I'm still trying to process all the information," Watson said. "I felt like we were turning a corner to really make a run and still believe we still will with the guys in this locker room. I just wanted to physically be a part of it. … It's tough to try to wrap everything around my head right now."
Watson, who will be placed on injured reserve, is expected to be back for the start of the 2024 season. He said he hopes to be able to throw again in two to three months.
In the wake of Watson's injury, Browns rookie Dorian Thompson-Robinson will start at quarterback Sunday against the Steelers, according to coach Kevin Stefanski.
"I want to give him a week where he knows he's the starter and gets a full week of preparation," Stefanski said.
Thompson-Robinson was forced into his first career start in Week 4 after Watson was made inactive following pregame warmups because of a rotator cuff strain in his throwing shoulder that ultimately cost Watson almost all of four games this season. Thompson-Robinson completed just 19 of 36 passes for 121 yards and threw three interceptions in the 28-3 loss to the Baltimore Ravens.
The rookie will start over PJ Walker, who has thrown for 618 yards with one touchdown and five interceptions over five games (two starts) this season.
Watson's shoulder fracture occurred during the first half of Sunday's come-from-behind win over the Ravens. Watson said Wednesday he knew something was wrong with his shoulder but kept playing through it.
"The whole second half was painful to throw a football," Watson said. "I was just pushing through whatever I was feeling."
Despite also suffering a left high ankle sprain Sunday, Watson played arguably his best game in a Browns uniform. He completed all 14 of his pass attempts in the second half and led Cleveland on a winning field goal drive to defeat Baltimore 33-31.
Watson said he pushed for a way to keep playing this season but was told by doctors the injury could be made worse by trying to continue throwing passes. Browns general manager Andrew Berry said Wednesday the shoulder fracture was unrelated to his rotator cuff strain and that there was a "pretty clear medical recommendation" for Watson to have surgery.
"We are very disappointed and devastated for Deshaun," Berry said, "especially given all that he has battled and gone through medically this season."
Berry said the Browns would look to sign another quarterback to give them three on the roster.
The Browns traded for Watson in March 2022 and sent the Houston Texans three first-round draft picks before signing the quarterback to a five-year contract worth a record $230 million guaranteed. Watson played six games last season for the Browns after serving an 11-game suspension for violating the NFL's personal conduct policy following accusations from more than two dozen women of sexual assault and sexual misconduct during massage sessions. Watson also sat out the 2021 season after requesting a trade from Houston.
All told, the latest shoulder injury means Watson will have missed 39 games over the past three seasons. He is still under contract for three more seasons with $138 million left on his deal.
Watson completed 61.4% of his passes this season for 1,115 yards with seven touchdowns and four interceptions. Despite Sunday's performance in Baltimore, he ranks 23rd in the NFL with a QBR of 44.7.
"We feel good about Deshaun [and his recovery]," Berry said. "We see how talented he is. We love that he's able to play smart. He's physically tough. He's mentally tough. We're excited to get him back."
The Browns face the Pittsburgh Steelers on Sunday in another key AFC North matchup. Both teams are 6-3 and a half-game behind the first-place Ravens (7-3) in the division.
Browns linebacker and team captain Anthony Walker said the team's goals won't change because of Watson's injury. But Walker also admitted that the defense, which ranks No. 2 in the NFL in efficiency, will have to elevate its performance even more.
"We know we have to play elite defense," Walker said. "And then we have to trust whoever does line up at quarterback for us is going to put their best foot forward."
Cleveland had opened as a 4-point favorite against Pittsburgh at ESPN BET before the announcement of Watson's injury. The Browns were a 2-point favorite as of Wednesday afternoon, and the game's total had dropped from 37.5 to 33.5. That would be the second-lowest total of any game in the past decade, behind only Saints-Browns at 32 on Dec. 24 last season when the temperature was 6 degrees at kickoff.
The Browns' odds to win the Super Bowl have fallen from 25-1 to 50-1.
Watson said he plans to stay around the team and help anyway he can while he rehabilitates and prepares for the 2024 season.
"I'm going to make sure I keep my head above water," he said, "and make sure I stay in touch with all the guys and support them as much as I possibly can."