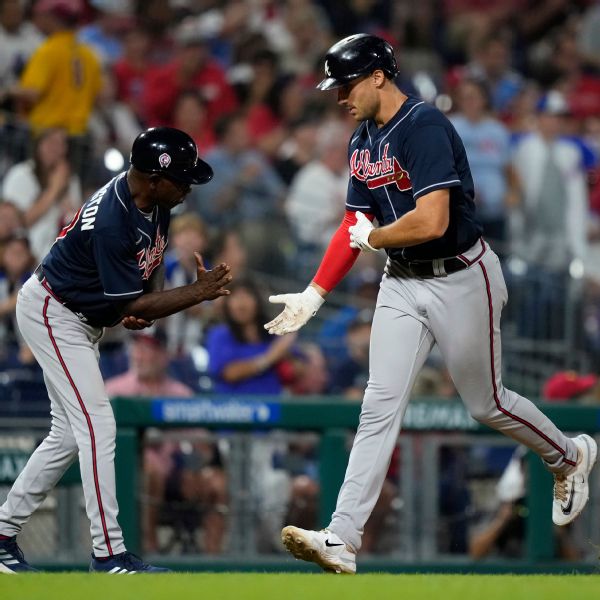 PHILADELPHIA — Matt Olson was raised an Atlanta Braves fan and appreciated the significance of the stars he passed on the way up the franchise's single-season home run list. Hall of Famers Hank Aaron and Eddie Mathews were among those sluggers left behind as Olson crushed one homer after another in a career campaign for the best team in baseball.
With home run Nos. 49 and 50 on Monday against the Phillies — the first one launched off the second deck and the second sliced the opposite way to left field — Olson entered rarified air among Atlanta's greats.
Now, only Andruw Jones has more homers in a season with 51 in 2005. Olson's Atlanta record seems a mere formality, as does another National League East crown for the Braves.
"It's definitely a cool moment I can look back on," Olson said. "I'd be lying if you said you don't want it. But it's not the priority."
Yes, the individual records are nice, but winning remains the main thing for the Braves, who inched closer to their sixth straight division crown with a doubleheader split on Monday against the Philadelphia Phillies.
Philadelphia's Brandon Marsh homered, Jake Cave added an RBI triple and the Phillies spoiled Olson's 50th homer with a 7-5 win in the nightcap against the Braves. Michael Harris II and Ronald Acuña Jr. went deep for the Braves in a 10-8, 10-inning victory in the opener. Harris also homered in the nightcap.
The Braves, who have secured at least a wild card and reached the postseason for the sixth straight year, need to win the final two games of the series to clinch the NL East in Philadelphia.
Olson hit a three-run homer off the second deck in the third inning of the nightcap and added a solo shot for his MLB-best 50th in the sixth, both off Phillies starter Michael Lorenzen (9-9). Olson had already set career highs in homers and RBIs, with 127, putting him within striking distance of Gary Sheffield's Atlanta record of 132 RBIs in 2003.
It marked Olson's eighth multihomer game of season, one behind Jones (2005) for the club record.
"He's putting together some kind of great year," Braves manager Brian Snitker said of Olson.
Phillies left fielder Kyle Schwarber retrieved the ball from the Phillies fan who caught No. 50 and got the ball to Olson.
"Respect that from him," said Olson, who also extended his hitting streak to nine games.
Information from The Associated Press was used in this report.