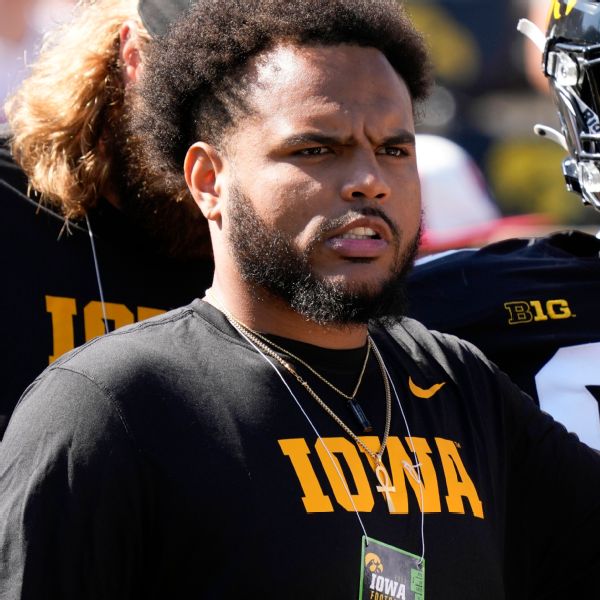 Iowa defensive tackle Noah Shannon's appeal to the NCAA regarding his yearlong suspension has been denied, coach Kirk Ferentz announced Tuesday.
As a result, Shannon's collegiate career is over.
"I'm not quite sure what went into the decision," Ferentz said in his weekly news conference. "But what I can tell you is that Noah is just a tremendous young man, has been [a tremendous young man throughout his time in Iowa City]. Came back for his sixth year, just a highly respected leader in our locker room and certainly with our coaching staff.
"So I feel very, very unfortunate [for him] and our goal is to keep him with the program, keep him close, have him remain as part of the team. Obviously he can't play, but he's run a heck of a race and we're just really disappointed with this whole thing."
Shannon, a senior and starting defensive tackle on the Hawkeyes' defense coming out of the spring, previously admitted to wagering on an event involving a Hawkeyes team in another sport but hasn't been charged in the Iowa state investigation into illegal betting by athletes at both Iowa and Iowa State.
"I want to apologize to the fans and everyone who supports Iowa Football. I made a mistake and I have taken responsibility for it. I am heartbroken that I will not be able to play alongside my brothers again, but I plan to stick with the team and support them any way that I can going forward," Shannon said in a statement released through the athletic department.
I want to say thank you to my family, Coach Ferentz, the coaching staff, and all of my teammates and friends for their unwavering support. I am going to make sure that this mistake does not define me or my career going forward."
In 28 career games, Shannon recorded 107 tackles (53 solo) with 4.5 sacks.
Iowa, coming off a victory at Iowa State last Saturday, which was Ferentz's 200th career victory and 188th at Iowa, is ranked for the first time this season at No. 25 in the AP Top 25 and hosts Western Michigan on Saturday.