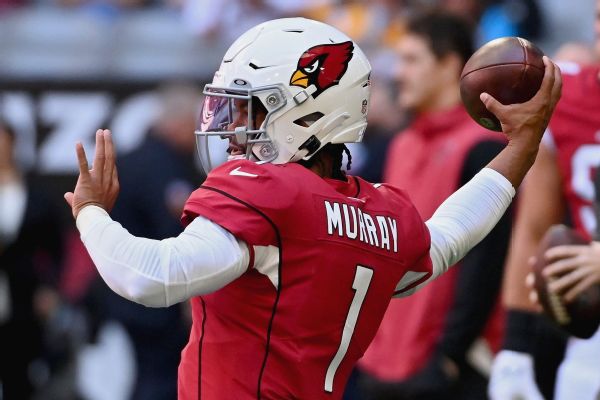 TEMPE, Ariz. — It's official. Arizona Cardinals quarterback Kyler Murray will start Sunday against the Atlanta Falcons, marking his return from an ACL injury that sidelined him for the past 11 months.
Coach Jonathan Gannon made the announcement Friday morning, putting to rest any doubts about Murray's status.
"Honestly, I'm excited for the guy," Gannon said. "I've seen what he's had to go through the last eight months or so — however long I've been here — and what he's put into it and how bad he wants to be out there and the competitor that he is.
"He wants to be out there with the guys and help his team win. So that's what I'm most excited to see."
Murray tore the ACL in his right knee Dec. 12 on the Cardinals' third offensive play of "Monday Night Football" against the New England Patriots. He had surgery Jan. 4. Murray missed all of the Cardinals' offseason activity and began the season on the physically unable to perform list. Arizona opened his practice window Oct. 18 and activated him to the 53-man roster Tuesday.
Sunday will be exactly 11 months to the day since Murray's injury.
Arizona is 1-12 since Murray was injured, but Gannon said the quarterback has the ability to elevate his teammates.
"I think that's what they're excited about," Gannon said. "They're excited about to get the guy in the huddle too, you know what I mean? They like the guy. We all love the guy, so that's probably why they're smiling a little bit."