Such figures are likely to remain the preserve of electric Porsche, Lamborghini and Audi supercars, rather than anything wearing a VW badge. 
Accessible performance will remain key for any hot Golf models, which will rival a raft of new electric hot hatches, from the Alpine A290 and Abarth 500e to the MG 4 X Power and Hyundai Ioniq 5 N. 
Iconic VW names to continue into electric age
Schafer confirmed that the Golf, Tiguan and GTI badges were its only "iconic" names guaranteed to be carried forward into a fully-electric VW future range, and decisions on the rest of its names would be taken on a case by case basis. 
Indeed, as Schafer said previously, there's no guarantee either that current ID names would make it into a second generation as VW no longer will have separate ICE and EV model ranges.
VW ID 2 won't take Polo name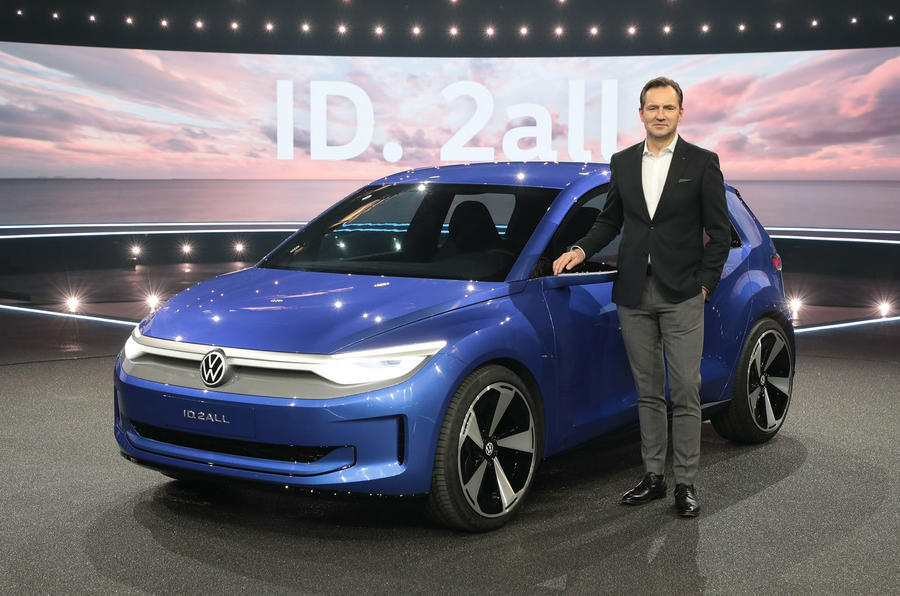 The production version of the recent VW ID 2 concept, which has spawned the new VW GTI concept, would definitely not take the VW Polo name in production as Schafer said it sat in a price point above the Polo, and calling it a Polo would limit the car's earning potential.
The ID 2 will sit on a lower cost version of the updated MEB + platform, which includes the potential for longer ranges, faster charging and reduced costs. This will be offered on models well into the 2030s but VW's long-term goal is for every model to be made from the SSP platform, which is designed to underpin models costing from prices in the €20,000s to €60,000s and beyond. 
Schafer admitted it was a challenge to get to that €25,000 starting price point and required VW to pull all the levers it could, including spinning four models off the same entry-level version of the platform and improving raw material sourcing and supply chain management. 
On the SSP architecture, VW R&D boss Kai Grunitz said that some decisions still needed to be made, including defining the electrical architecture. The current plan was to make it 800V but 400V was also under consideration for smaller, less expensive models, using technology being developed for the MEB+ architecture.