Mercedes has in recent years prioritised visual impact over deep-seated material quality and fit and finish. It's fair to say this approach has been applied to the new GLC. 
The transmission tunnel flows seamlessly into the 11.9in infotainment touchscreen to breathtaking effect, and the ambience-lifting 'anthracite linestructure lime wood' finish of our test car's cascading dashboard is lifted from the current S-Class. As, for that matter, is the steering wheel, whose slimmed multifunction spokes represent a vast improvement over the old car's chunky interfaces. The driving environment is less cluttered with switchgear and more premium in feel than before, while hefty window sills and a comparatively high beltline give the GLC a feeling of protectiveness that those shopping in this class want. That said, the driving position is still decidedly car-like, the GLC never feeling intimidating.
So the GLC probably has more 'wow' factor than any rivals. But, equally, perceived quality is behind what you would find in the comparative BMW, Lexus or Audi. The problems here aren't scratchy plastics or substantial panel gaps – the GLC isn't that bad. It's more that various surfaces flex more than they should; it's in the imprecision of controls like those for the mirrors or those on the multifunction steering wheel, where different commands are grouped under the same plastic panel; and it's in the unconvincing 'metal structure' finish found on the door cards and the high-set air vents. All this undermines the visuals a touch. 
In practical terms, the GLC wants for little. Occupant space is very good, front and rear, though anyone in the middle berth in the back will have to compete with a pronounced transmission tunnel. The car's longer rear overhang also results in 70 litres more boot space than before, with a total of 620 litres bettering that offered by the Audi Q5 and BMW X3. 
Multimedia system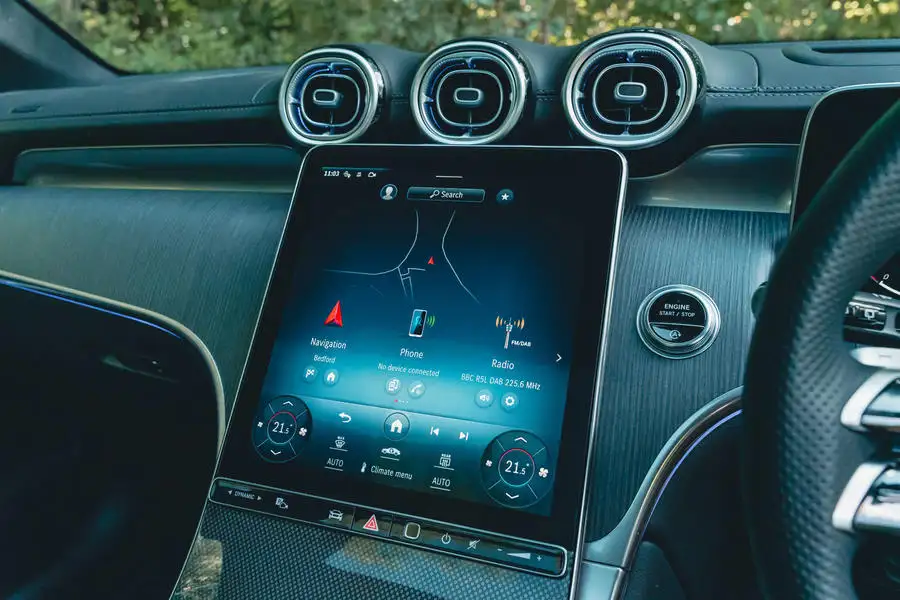 The MBUX system inside the GLC is the same that was introduced in the current S-Class and feels commensurately plush, with deep colours and crisp graphics. It must be said, however, that the reclined nature of the 11.9in touchscreen display does mean that fingerprints catch the light to less than desirable effect. And because there is now no click wheel or such, your only other option to input commands is via the steering wheel controls, which isn't especially intuitive. There's a considerable degree of swiping involved, much of the time.
The central display does at least present you with clear climate controls that don't require any digging through sub-menus to access. The smartphone integration is also good, and the positioning of the display keeps it in arm's reach, which isn't always the case with dash displays.