In the mid-1940s, a tractor was a farmer's lot. Two-wheel drive and with an exposed and uncomfortable seat situated over the rear axle, they were rugged but slow, and if you wanted to carry anything, you needed a trailer too. German engineer Albert Friedrich's original Unimog '70200' tore up that rulebook.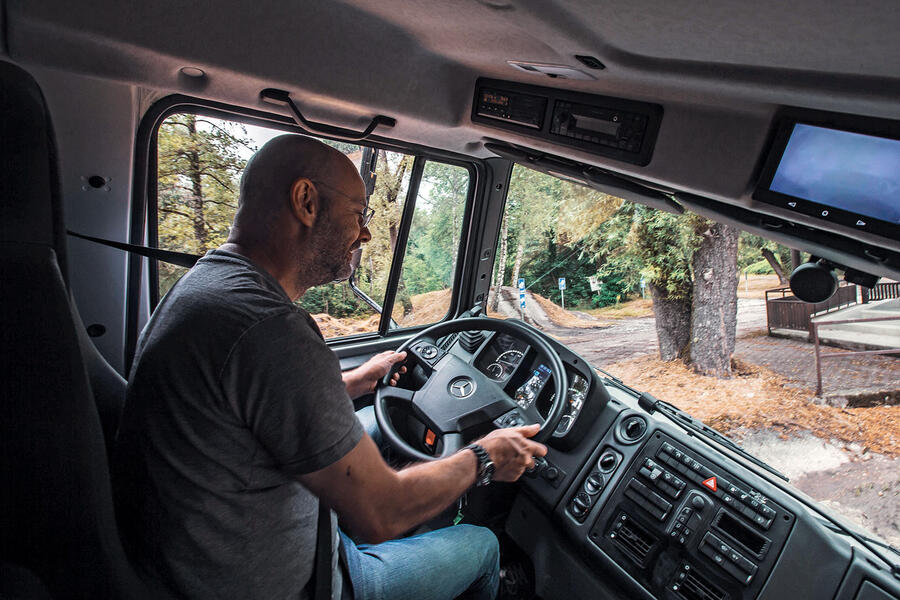 He made room for two occupants, side by side, above and behind the engine, protected by a windscreen and a canvas hood. He gave his machine four-wheel drive and portal axles – gears at each wheel, which push the axles higher than the wheel centres, for improved ground clearance.
Its track width was the size of two rows of potatoes so could be driven into fields, it could tow and it had a power coupling for farming equipment. But there was also a load bed on the back and, with 25bhp, even the first Unimogs could reach 31mph on the road – a speed that no tractor of the day could imagine.
The principles employed by Friedrich hold true today. The modern Unimog has a longitudinal engine up front, driving a 4WD system that uses portal axles just as the original did and locates its prop and half shafts within tubes to protect them from rock strikes and grime.
Things have become more sophisticated since, and bigger, inevitably. Today, a Unimog has eight forward gears and up to eight reverse gears. It has three locking differentials, front, centre and rear, with any hydraulic lines or electric cables running above the axle tubes, isolating them from damage too.