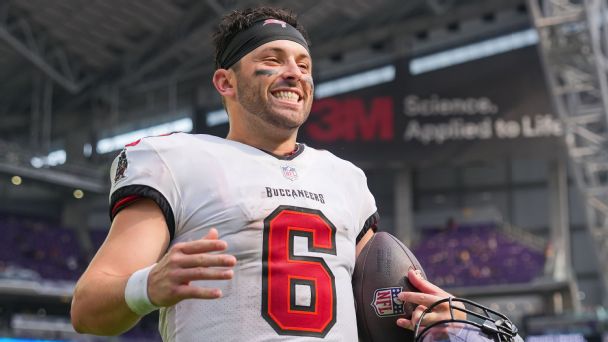 TAMPA, Fla. — On the heels of a 20-17 victory over the Minnesota Vikings where Tampa Bay Buccaneers quarterback Baker Mayfield was able to pick up the the Vikings' hand signals, Mayfield turned a suggestion that he consider working in government intelligence into a joke at the Houston Astros' expense.
"Listen, I know I'm in Tampa, but I'm a Texas Rangers fan, not a Houston Astros fan, so we're not going to get into that," Mayfield said Wednesday, referring to the Astros' 2017 sign-stealing incident.
A Major League Baseball investigation determined that the Astros illegally used a video camera in center field to steal signs from opposing teams in 2017 and 2018. It resulted in the harshest penalties ever levied on an MLB team, which included suspending Astros general manager Jeff Luhnow and manager AJ Hinch for the 2020 season, a $5 million fine for the team and the loss of their first- and second-round draft picks for 2020 and 2021.
Bucs running back Rachaad White said on Buccaneers Radio Network Monday that at halftime, Mayfield entered the locker room and said, "'I got it. We got all these signals.' We in there talking as an offense. He's like, 'I know all these signals. If they do this, they going to Cover 2, they do this, they're going to Cover 3. Every time I alert this, they drop and they do this signal, they drop him back to this.' And I'm like, 'Wow, that's amazing.' I mean, I know certain coverages, but I don't know a lot like that."
While sign-stealing itself is not illegal in MLB or in the NFL, the use of electronic devices to steal signs is. Mayfield did not violate any rules by picking up the Vikings' signs.
Mayfield said it helped the offense in its first year under offensive coordinator Dave Canales and seeing new Vikings defensive coordinator Brian Flores for the first time.
"When it comes down to that, you're always trying to find tendencies of the defense. Just those in-game adjustments that you're trying to find those tendencies, sometimes it's a little different than others," Mayfield said. "It was a chess match there in the first half. Kind of had some stall-out drives. They did a very, very good job. I can't credit Brian Flores enough for how they were scheming against us. It took us a little bit to adjust but you try to find every advantage possible to win."
White said he'd never seen anything like it when asked about it Wednesday.
"Just how he come in there and just nonstop he was already on it," White said. "He was just on it. … It was just great to just see him come in there confident, and be like, 'I got it. I got it figured out.'"