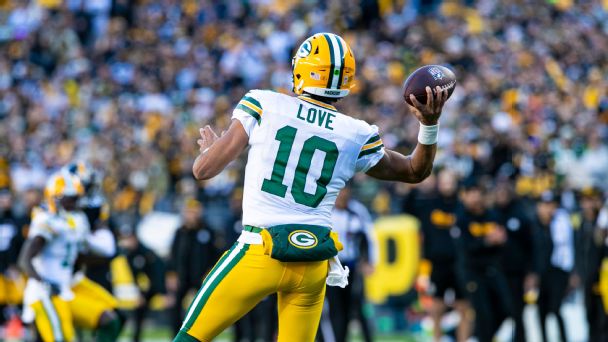 PITTSBURGH — When it came time to win Sunday's game against the Pittsburgh Steelers, Jordan Love opted to throw to Christian Watson.
Twice.
When both attempts ended the same way — with interceptions in or near the end zone — it left reason to wonder why the Green Bay Packers quarterback can't seem to find a way to pull out a close game.
That might not be the right thing to ponder.
After Sunday's 23-19 loss — which dropped the 3-6 Packers to 1-4 in games decided by four points or fewer — perhaps the wonderment should be why Love keeps trying to go to Watson.
Love targeted the speedy second-year receiver seven times on Sunday. They connected on just two of them for 23 yards. Watson has caught just 42% of his passes this season, which at the end of Sunday's game left him with the lowest catch rate among the 126 players who had at least 30 targets this season, according to ESPN Stats & Information.
"It's frustrating for sure, just with the expectation I have for myself, the goal that I have for myself," Watson said after the game. "And obviously it's [frustrating] when we're not being as successful as we want to be as a team. Just want to find ways to try to make more of an impact. But at the end of the day, I'm only one out of 11 people on the field, so we just need find a way to get it done as a team."
At first, it appeared last week's deep catch by Watson against the Rams sparked something. He caught Love's first two passes on Sunday: a 9-yard gain on the first play from scrimmage and 14-yard crosser two plays later.
And then, nothing.
In one of two third-quarter drives that stalled in the red zone and resulted in field goals, Love and Watson couldn't connect on a deep ball down the left side. The ball was well beyond Watson, who appeared to slow down but said afterward that he had to widen the route more than he wanted in order to avoid a defender in the flat.
"I just don't think Jordan expected it and obviously neither did I," Watson said. "I just had to make a decision."
It only got worse from there.
Love threw into double coverage in the end zone on an out-and-up move by Watson. The underneath defender, Patrick Peterson, tipped the ball right into the hands of safety Keanu Neal with 3:20 left.
"That was designed for single-high defense, [but] they played a shell," Packers coach Matt LaFleur said. "So, I mean, I've got to go back and look at it, but just thought that the ball needed to go backside."
Love got another chance, taking over at his own 19-yard line with 59 seconds left. He opened with a well-placed 46-yard completion to Jayden Reed. But a crucial mistake by running back Aaron Jones, who did not get out of bounds after a short pass, cost the Packers nearly 30 seconds of game clock.
With one shot left from the 16-yard line and 3 seconds remaining, Love chose Watson again. The Steelers lined up seven defenders along the goal line to cover the five the Packers sent out. To Love's right, Watson got to the goal line and broke toward the middle, but safety Damontae Kazee jumped it for a walkoff interception.
What a play by @P2 and @Keanu_Neal 🙌

📲: Stream on NFL+ https://t.co/T87FSnfvVk pic.twitter.com/jsAtyqMKU2

— Pittsburgh Steelers (@steelers) November 12, 2023
On their own, there are valid explanations for both plays at the end. But on the whole, Love has thrown 10 interceptions this season, and five of them have come while targeting Watson.
Six of Love's interceptions have come in the fourth quarter, which is tied for the second-most by a Packers quarterback within the first nine games of a season over the past 45 years, according to Elias Sports Bureau. Brett Favre did it twice (2000, 2005). Randy Wright had the most with nine in 1986.
Five of Love's interceptions have come with a chance to tie or take the lead in the fourth quarter. If there's any solace to be taken in that, it's that Aaron Rodgers had similar struggles in his first season as a starter. In 2008, Rodgers threw four interceptions with chances to tie or take the lead in the fourth quarter. Love, however, still has eight games to play.
It's not like Love doesn't have other options, although none have any more experience or production than Watson.
After the game, the entire receiver group gathered near Reed's locker and engaged in a lengthy-but-calm discussion. There was no obvious solution.
"Talking about the things we did good, talking about the things we can get better at," Reed said. "That's just the conversations we have. That's what we've got to do every day, go back to work and be self-critical, watch the film, see what we're good at and keep going on that, see what we can get better at."
Reed, the rookie second-round pick, might be the answer to some of the problems. He caught all five passes thrown his way on Sunday for 84 yards and a touchdown. Romeo Doubs (three catches for 31 yards) had the other touchdown catch.
This field-level view though. 🤩@jordan3love ➡️ @JaydenReed5!

TOUCHDOWN! 🙌#GBvsPIT | #GoPackGo

📺: CBS pic.twitter.com/dM1J42X14c

— Green Bay Packers (@packers) November 12, 2023
"At the end of the day, I just want to win football games," Watson said. "Obviously, I'd love to be the guy, but if we were winning the football games, I don't think I would have any complaints about anything. That's the No. 1 thing. We've just got to find a way to win, but I'd definitely like to do more."