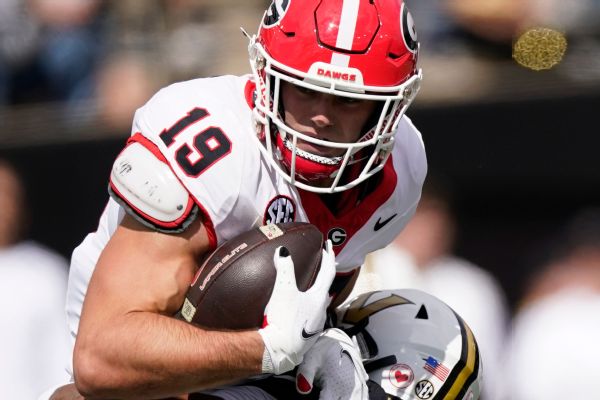 ATHENS, Georgia — Georgia coach Kirby Smart said tight end Brock Bowers' availability for Saturday night's showdown against No. 9 Ole Miss at Sanford Stadium will be a game-time decision, as the All-American continues to recover from TightRope surgery on his left ankle.
Smart, speaking on the set of "College GameDay" on Saturday, said he hoped to get back Bowers and offensive tackle Amarius Mims for the Ole Miss contest (7 p.m. ET, ESPN/ESPN App). Mims, a preseason All-SEC pick, hasn't played since undergoing TightRope surgery on his ankle in mid-September but will return tonight, sources told ESPN's Pete Thamel.
"That's what we hope," Smart said of Bowers. "I don't know if he'll be 100%, but he's done a good job during the week working toward the benchmarks he's got to do. We'll see how he is. It's a game-time decision.
"I still don't know if we'll be 100%. We're hoping to get Mims back. With those things happening, we're getting closer on offense to where we need to be."
Bowers, a junior from Napa, California, was hurt in the first half of a 37-20 victory at Vanderbilt on Oct. 14. TightRope surgery, which involves using surgical thread instead of metal screws, is designed to accelerate recovery. The typical recovery time is four to six weeks. It has been 26 days since Bowers' surgery.
Bowers leads the Bulldogs with 41 catches for 567 yards and four touchdowns. He had more than 100 receiving yards in three straight games before he was hurt.