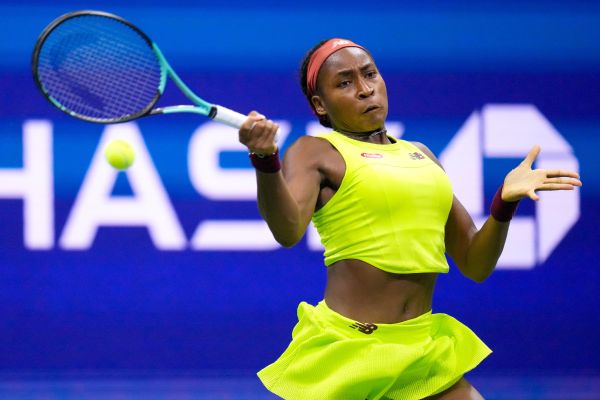 NEW YORK — Coco Gauff never wavered one bit Thursday night. Not when match point after match point went by the wayside. Not during a 40-shot exchange that ultimately helped decide the outcome. And not, most distracting of all, when her US Open semifinal against Karolina Muchova was interrupted for 50 minutes by environmental activists — one of whom glued his bare feet to the concrete floor in the stands.
It has been rather obvious for quite some time that Gauff is no ordinary teenager. Now she is one win away from becoming a Grand Slam champion.
Gauff, a 19-year-old from Florida, reached her first final at Flushing Meadows by defeating Muchova 6-4, 7-5 on what was anything but an ordinary evening.
"I really believe that now I have the maturity and ability to do it," said Gauff, who came close to a major trophy at last year's French Open but lost the title match. "You know, regardless of what happens on Saturday, I'm really proud of how I have been handling the last few weeks."
The No. 6-seeded Gauff will meet No. 2 Aryna Sabalenka of Belarus for the championship Saturday. Sabalenka defeated 2017 U.S. Open runner-up Madison Keys 0-6, 7-6 (1), 7-6 (10-5) in a topsy-turvy second semifinal that finished at nearly 1 a.m.
Sabalenka won the Australian Open in January, is 23-2 in Grand Slam matches this season and is guaranteed to move up to No. 1 in the rankings for the first time next week.
The toughest part against Muchova for Gauff might have been closing out Thursday's victory: She needed six match points to get it done, raucously supported by a loud, partisan crowd that chair umpire Alison Hughes repeatedly implored to quiet down.
After failing to convert one match point while serving for the win at 5-3, then another four in what turned out to be the last game, Gauff got the last chance she would need when she smacked a forehand winner to cap that 40-swing point that was the longest of the contest.
"I knew I had the legs and the lungs to outlast her in the rally; it was whether I had the mentality and patience to do it," Gauff said. "After 10 or 15 shots in, I was, like, 'Well, this is going to change the match.'"
Sure did.
On the next point, Muchova missed a backhand, and it was over. Gauff pumped her fists, waved to the fans and put a finger to her ear, as if to say she wanted to hear even more support.
She is the first American teenager to make it to the title match in New York since Serena Williams, one of her idols, then quoted another, the late NBA star Kobe Bryant, by telling the fans: "Job's not done."
Gauff was up by a set and 1-0 in the second when four climate protesters disrupted play from seats in an upper level of the arena. When action resumed, the play was pretty even for several games, until Gauff surged ahead and got her first match point. Muchova erased that with a volley winner and broke back.
They would play on for nearly a half-hour.
With Gauff leading 6-5 and Muchova serving, the one-point-away count kept climbing. Muchova resisted. Gauff was unable to pull through.
Once. Twice. Three times. Four. The roars from the seats kept coming. Finally, Gauff completed her 11th win a row and the 17th in her past 18 matches, a run that began after a first-round exit at Wimbledon in July. The streak includes the two biggest titles of Gauff's career — and now she needs one more win to get an even more important championship.
"After Wimbledon, I wasn't expecting to do well, honestly, in this hard-court season," Gauff said, "so I'm really proud of the way I have been able to turn this season around for me."
What Gauff also displayed was that she was ready for the moment, the sort of success predicted of her since, at age 15 in 2019, she became the youngest qualifier in Wimbledon history and got to the fourth round there.
"I'm having way more fun now," Gauff said Thursday.
Sabalenka is the first woman to reach the Australian Open final and US Open final in the same year since Angelique Kerber in 2016, according to ESPN Stats & Information. Before rallying to beat Keys, Sabalenka had been just 1-5 in Grand Slam semifinals, including losses the past two years in the round in New York.
She wasn't sure how she was going to reach the final when the hard-hitting Keys rolled through the first set in 30 minutes and opened a 5-3 lead in the second.
"You just have to keep trying, keep staying there and keep pushing it. Maybe you'll be able to turn around this game," Sabalenka said. "Lucky me, somehow magically, I don't know how, I was able to turn around this game."
Early in that second set, after getting broken, Sabalenka went over to the corner near her guest box and slammed her racket on a towel box. Then she chucked her racket toward her entourage, but it didn't quite reach them and landed on the court.
But though she looked frustrated, she was remaining positive.
"Obviously, I was keep reminding myself that I lost a lot of tough matches," Sabalenka said. "I mean, one day all those matches should just, like, help me somehow."
Keys was trying for a second trip to the US Open final, where she lost to Sloane Stephens in 2017. She had her upper left leg taped before the third set but said the injury didn't affect her.
"I think everyone at the start of the tournament would obviously be really, really excited to be in the semis," Keys said, breaking into tears. "Right now it sucks. But I just think being able to take this and turn it to a positive is really possible."
The Associated Press contributed to this report.