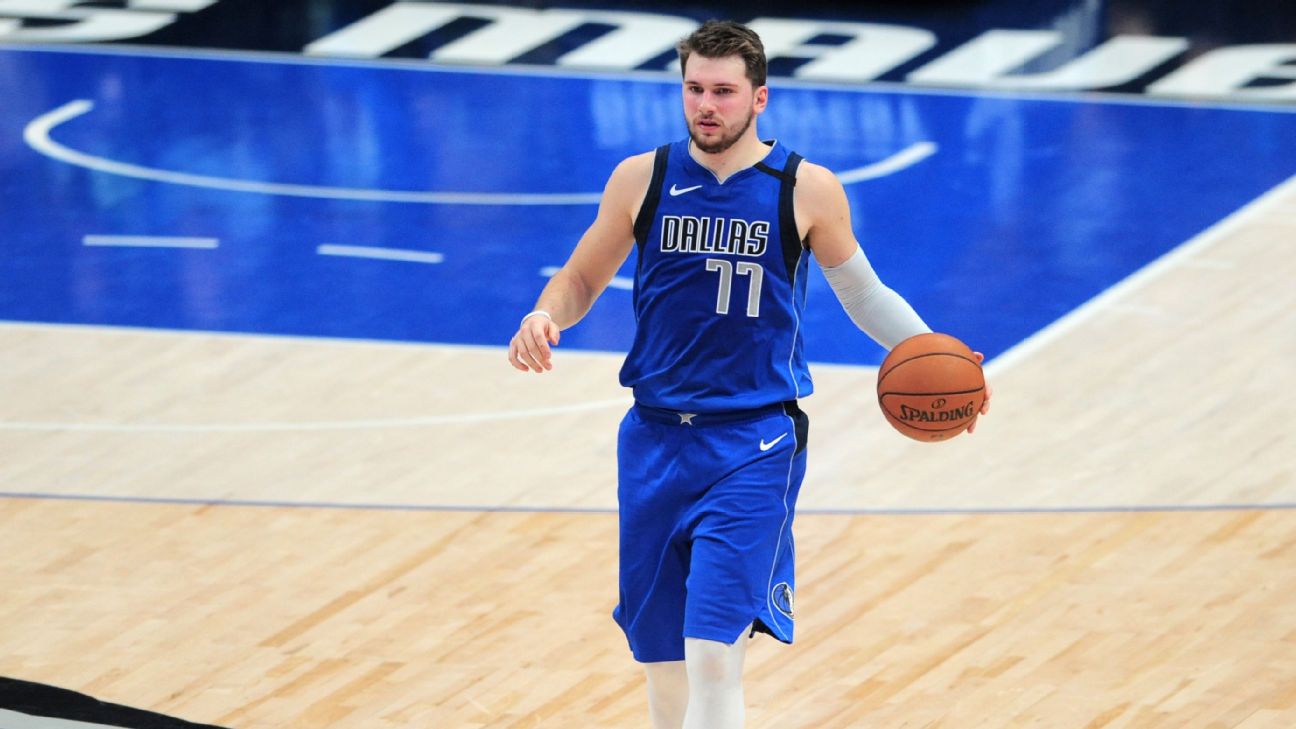 DALLAS — The debut of the Dallas Mavericks' in-season tournament court will be delayed because of a "manufacturing issue," an NBA spokesman told ESPN.
The Mavericks will use their "core court" during Friday night's in-season tournament game against the LA Clippers at the American Airlines Center.
Testing of the Mavs' court, which is primarily painted with a light shade of gray and has a darker shade of gray as the strip down the middle, determined there was a manufacturing defect and that the playing surface required more work to meet the league's standards.
The league office made the decision in late July to use a bold court template for in-season tournament games, a marketing tool that made the games easily identifiable. The entire courts are painted, the bulk of each court in a color linked to the home team's City Edition uniform, with a central strip the width of the lane running down the middle of the floor in another shade. A giant in-season tournament trophy serves as the center court logo, superimposed on the home team's individual logo, and a tipped-over version of the trophy is in the lane inside the foul line on both ends of the court.
The teams were informed on an Aug. 10 Zoom call, creating a quick turnaround that the league acknowledged would be challenging.
"We started making decisions later than we probably could have," Christopher Arena, the NBA's head of on-court and brand partnerships, told ESPN's Zach Lowe in October. "And it became, 'OK, how are we going to do this? How are we going to get 30 courts to 30 teams in 29 buildings, and do it in time? Are we crazy?'"
The Mavericks opened in-season tournament play with a 125-114 road loss to the Denver Nuggets on Nov. 3, when the court required a game-day adjustment after it was determined that the 3-point line was painted incorrectly. Mavericks forward Grant Williams questioned the measurement after his shot felt off during shootaround, and the correction was made during the afternoon.
The inaugural in-season tournament features three groups of five teams in each conference. The six group winners make the quarterfinals, along with a pair of wild-card teams (the two best second-place finishers from the groups).
Quarterfinal games are Dec. 4 and 5 at higher seeds; the semifinals are Dec. 7 in Las Vegas and the title game is Dec. 9 in Las Vegas as teams compete for the NBA Cup.
All games also count in the regular-season standings except the final.