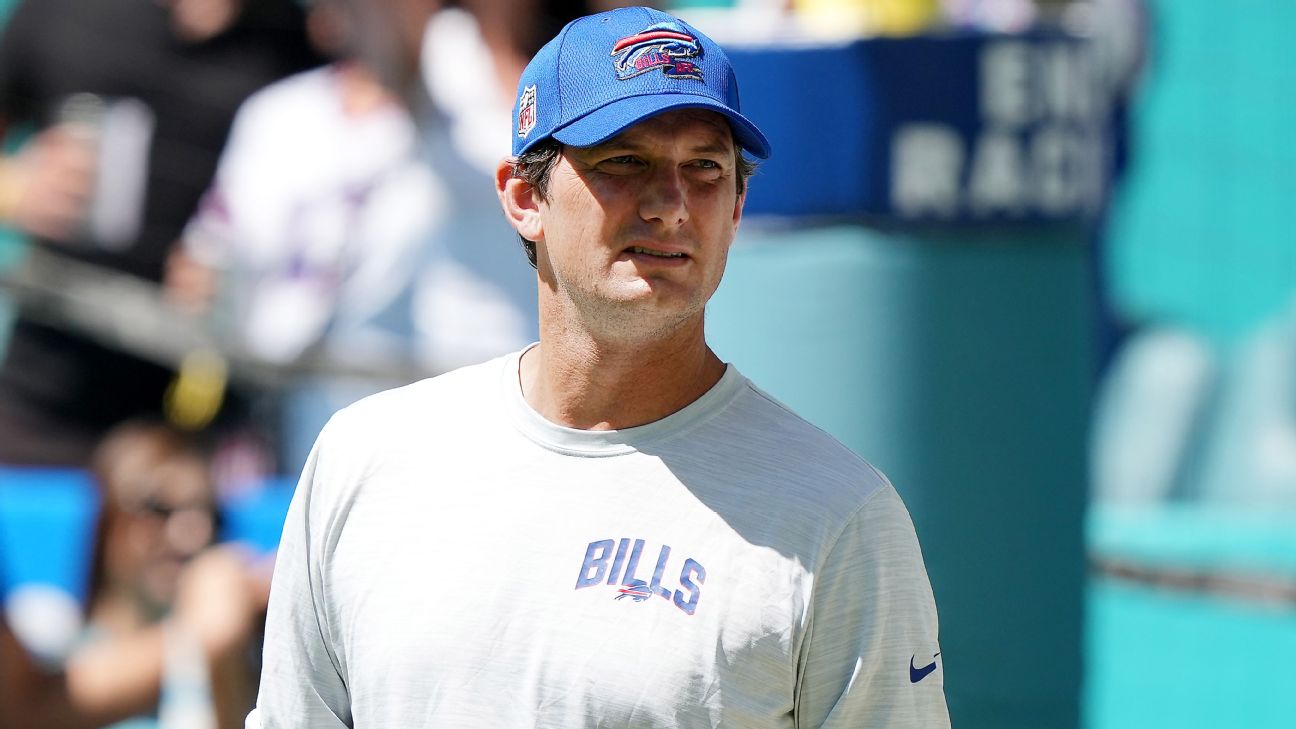 BUFFALO, N.Y. — The Buffalo Bills made a big change amid a disappointing turn to an inconsistent season Tuesday, firing offensive coordinator Ken Dorsey and naming quarterbacks coach Joe Brady as his interim replacement.
The move came hours after Buffalo's loss to the Denver Broncos on "Monday Night Football," as the Bills turned the ball over four times and had a season-high four drops.
But Dorsey's firing also comes as a response for a Bills team that sits at 5-5, falling out of the playoff picture in a competitive AFC and with the hardest strength of schedule remaining, according to ESPN Analytics.
When asked after Monday's 24-22 loss whether he thought big changes were needed, Bills coach Sean McDermott said he needed "a little bit of time" to assess the situation but emphasized that he was "not real happy right now."
Dorsey was elevated to Buffalo's offensive coordinator in 2022 when his predecessor, Brian Daboll, was hired as the head coach of the New York Giants. Dorsey previously served as the Bills' quarterbacks coach and was endorsed by star quarterback Josh Allen for the job when Daboll departed.
But under Dorsey's time as offensive coordinator, the Bills have struggled to find offensive consistency and be effective. Buffalo's offense has not scored more than 25 points since Week 4 and turnovers have been a major issue, especially for Allen, who leads the NFL with 14 turnovers and 11 interceptions.
Allen's turnovers are two more than the next closest players (Desmond Ridder and Mac Jones) and his 33 turnovers since Dorsey became coordinator are six more than the next player (Trevor Lawrence).
Statistically, the Bills' offense looks among the best in the NFL, ranking third in offensive EPA per play, second in completion percentage (70.3%) and third in yards per play (6.0). But the reality for the Bills is that performing at a high level wasn't consistently happening despite a relatively healthy offense, and frustration was clearly building since the offense took a turn for the worse after Week 5.
After eye-popping offensive performances from Weeks 2-4, when they put up at least 37 points in each game, scoring points — specifically in the first half — became a problem. That resulted in the Bills getting behind early and often.
Since Week 5, the Bills' offense has scored an average of seven points per game in the first halves (fourth fewest). It had a league-high eight turnovers in the first two quarters of those games and leads the league with 13 turnovers since Week 5.
Buffalo's top players also have had up-and-down performances.
The Bills and Allen entered the season talking about wanting to minimize the hits he took and for the two-time Pro Bowler to be smarter with the football. In reality, that seemed to take away from Allen's effectiveness, especially when the threat of him running as often was not something opposing defenses had to account for. Allen's legs started to be reintegrated from Weeks 7-9 with season-high numbers.
Splash plays also were limited, with Allen throwing 10 interceptions on throws of 10 or more air yards (tied with Jordan Love for the most this season). He has completed 15 of 38 passes (39.5%, 22nd) of 15 or more air yards since Week 6.
McDermott has also discussed wanting to have the threat of a running game be a part of the offense, but that didn't find any consistency either, with three games with under 100 rushing yards in the past six. McDermott wanted Buffalo's offense to play complementary football with the defense, but since Week 5, the Bills' defensive injuries have piled up. Although the defense has done well overall, the Bills have the third-worst starting field position margin since Week 5 (-5.9).
Bills wide receiver Stefon Diggs started the season with five 100-yard receiving performances in his first six games. He has not had one since and is coming off a season-low performance Monday, with just three receptions for 34 yards on five targets.
Prior to working with Dorsey, Allen had Daboll as his offensive coordinator for the first four years of his career.
Brady has offensive coordinator experience from his time with the Carolina Panthers (2020-21) before being fired during the 2021 season under Matt Rhule.