To help give the car more of a brooding presence, the Q8's headlights are available with redesigned matrix LEDs to make the front of the car look wider. The driver is able to choose between one of four 'light signatures' using the infotainment system.
They make use of 61 OLED segments (in place of the 10 on the smaller Q4 E-tron), and have the ability to provide specific warning signs to fellow road users and give a range of bespoke styles for each driver, or signatures.
The rear lights have also been restyled with gloss trim, with Audi's new dechromed badge integrated into the light bar. The car makes use of Audi's Dynamic Light function, first introduced on the Q6 E-tron, which can depict a red triangular warning symbol on the rear lights, in combination with the hazard lights, to warn other drivers of obstructions.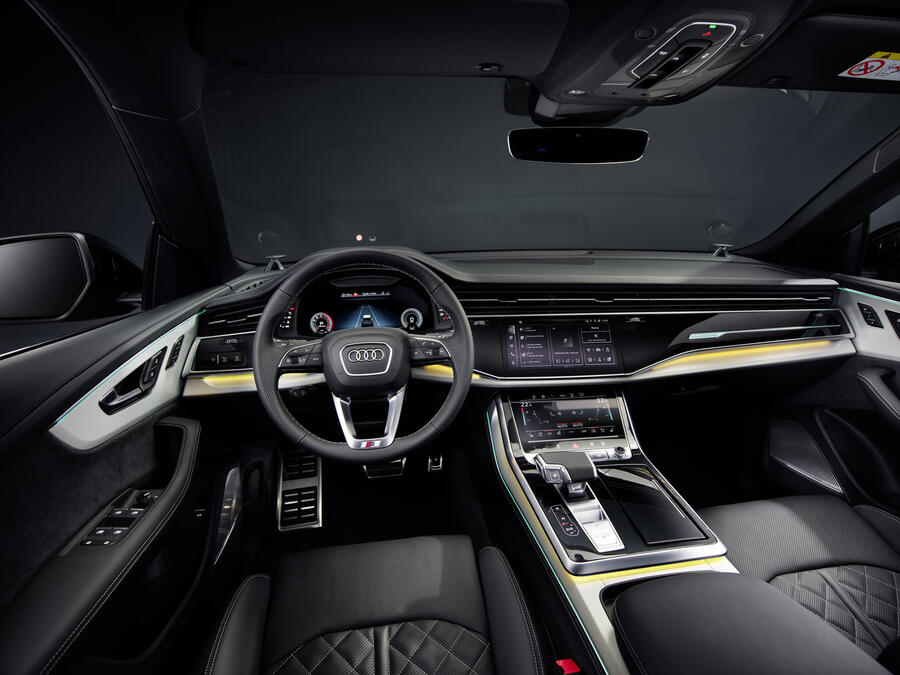 Much like the outside, changes have been kept to a minimum on the inside. The Q8 receives three new trim options: Sakhir Gold, Ascari Blue and Chili Red, all of which have a metallic finish. Five new alloy designs are available, ranging from 21in to 23in.
The car's infotainment system is now able to run third-party apps for the first time, allowing the driver to stream services from Amazon Music or Spotify. The Audi virtual cockpit display has also been given sharper graphics.