A community is the mental and spiritual condition of knowing that the place is shared, and that the people who share the place define and limit the possibilities of each other's lives. It is the knowledge that people have of each other, their concern for each other, their trust in each other, the freedom with which they come and go among themselves.
—Wendell Berry
When we think of distressed neighborhoods, we might be forgiven for picturing stereotypical images of gritty urban street corners, graffitied sidewalks, and corner bodegas and liquor stores where clerks ring up purchases from behind a plate of bulletproof plexiglass. But concentrated disadvantage takes many physical forms, and impoverished rural areas face their own set of geographical disadvantages. Take, for example, eastern Kentucky. As James P. Ziliak, the director of the Center for Poverty Research at the University of Kentucky, explains, "One of the challenges that faces eastern Kentucky is the remoteness of the area. It's difficult to get to a lot of places. The communities are small, and they're spread apart, so you lose that synergy that you want to spark development a lot of times."
This means that social repair in Appalachia must be approached differently from that in population-dense urban areas. Just as a flat, homogenous country where everyone lives around a single river has an enormously different sociopolitical landscape than a country that is diffuse, mountainous, and ethnically and religiously diverse, the distinct geography of neighborhoods shapes the social dynamics that evolve there. And just as the more cosmopolitan coastal region of one country may be culturally distinct from the more homogenous inland regions, in rural America, the social fabric of one county—or even one part of a county—can differ substantially from that of its neighbor.
Yet most efforts to revitalize these areas have leaned heavily on models and frameworks used elsewhere without any attempt to customize them to local geography, institutions, or needs, just as international organizations ranging from the United Nations to bilateral donors have often brought the same formulas and frameworks to countries with vast demographic, institutional, geographic, and cultural differences. This is a mistake; what works in inner-city Detroit is not going to work in rural Appalachia, just as what works in downtown Cairo is not going to work in the central highlands of Afghanistan.
In rural areas in particular, addressing local problems requires learning and adapting to the local ways of doing things. And in Appalachia, this includes understanding the values of people who tend to accept hardship, insist on self-reliance, and exhibit grit, as Loyal Jones, a prolific writer and scholar of Appalachia, puts it. Unlike many urban dwellers, many Appalachian families have lived in the region for generations, and their identities are staunchly and proudly tied to a sense of place. Their communities and families are tightly knit, and they tend to view outsiders with suspicion. "Life in the wilderness and the continuing relative isolation of Southern mountaineers made a strong imprint on us," Jones explains. "The Appalachian value system that influences attitudes and behavior is different in some ways from that held by our modern countrymen, although it is similar to the value system of an earlier America."
This heavy emphasis on relationships and "us vs. them" attitude toward strangers may seem old-fashioned, but the strong social ties this mentality fosters are both a necessity and a strength. After all, if you live in an isolated, remote region, many miles removed from the nearest town or city, you have to be able to count on local family members and neighbors for whatever help and support you might need. As such, any attempt to repair the many individual social habitats in the region requires asking: What initiative can help local residents build up the capacity to repair their own institutions and solve their own problems? And how can that initiative be adapted to fit the needs of the specific social context that is Appalachia?
Appalachian Kentucky, which consists of 54 counties and 1.2 million people, lies at the heart of Central Appalachia and is disproportionately affected by the poor economic, institutional, and educational conditions that exist across much of the larger Appalachian region: a 206,000-square-mile area stretching across 13 states from southern New York to northern Mississippi known for its bucolic landscape, with steep, mountainous ridges, rolling hills, and wide, verdant valleys. Appalachian Kentucky contains a disproportionately high number of the region's economically distressed counties due to the region's consistently poor economic performance compared to the rest of the nation; in 2018, some counties had median incomes lower than they were in 1970—even while the national median income has doubled. Residents, on average, are substantially less educated, less healthy, and more likely to be disabled, and to have children as teens, compared to the rest of the state and country.
Whatever social ailments exist in a neighborhood—violence, family instability, homelessness, etc.—will inevitably find their way into the local schools.
On a macro level, Appalachia's socioeconomic landscape may have more in common with developing countries like Colombia and Brazil that struggle to improve their disadvantaged position in the global economy. Appalachian Kentucky, much like these places, has long been dependent on the extraction of natural resources like coal and wood, as well as the decisions made by distant government officials and corporate titans, which control the mining, forestry, and metal industries. Meanwhile, the demographic and geographic characteristics, low education levels, and limited public, private, and philanthropic investment in resources and institutions contribute to the poor prospects for upward mobility. As is the case in distressed urban areas, those who can leave the region often do. As the journalist and author Grace Olmstead writes in her haunting book about the hollowing out of the American heartland, Uprooted, "When we lose hope, we move on. When the prospect of future joy and prosperity abandon a place, we abandon it—if we can. That is how a modern, mobile society works….But the price of this mobility is paid by those who do not have the money, the opportunity, or the desire to leave."
The decline of the region's main industries—especially coal— has brought on a severe economic crisis, yielding high levels of outward migration, a nearly complete drop-off in private investment, and an unprecedented social crisis brought on by despair and opioid addiction. Indeed, eastern Kentucky, which has been called the painkiller capital of the world, is where the opioid epidemic got its start. In 2015, there were one-third more deaths of despair—a category that includes death by drug overdose, suicide, and alcoholic liver disease—per capita than the national average in Appalachia, a gap that had been growing for over two decades, only to accelerate in the wake of the 2008–2009 financial crisis. Such disparities have been most acute in the Central and North Central subregions, which include eastern Kentucky, West Virginia, and southeastern Ohio. As Chris Arnade writes in his book Dignity: Seeking Respect in Back Row America:
Much of the back row of America, both white and black, is humiliated. The good jobs they could get straight out of high school and have the stability of a lifelong career have left….The communities that provided pride are dying, and into this vacuum have come drugs. Their entire worldview is collapsing, and then they are told this is their own fault: they suck at school and are dumb, not focused enough, not disciplined enough….It isn't just about them; it is their friends, family, congregation, union, and all they know.
Whether in urban or rural areas, schools—a relatively old social institution—are the first formal organization that many children encounter, and as a result are the main arena in which society tries to address the repercussions of social breakdown and the indignities Arnade writes about. In fact, whatever social ailments exist in a neighborhood—violence, family instability, homelessness, etc.— will inevitably find their way into the local schools. For example, in Appalachian Kentucky most school districts have been severely affected by the region's larger difficulties, as evidenced by the significant decline in student numbers, local funding, and the proportion of students with stable families and living arrangements. Moreover, in places like eastern Kentucky, not only are schools the first formal institution children come into contact with, they are sometimes the only such institution. Unlike in denser cities and suburbs, there is minimal government presence in these local areas, and few Boys & Girls Clubs, United Way chapters, YMCAs, or other local equivalents serving rural children and youth. As a result, schools in effect become the front-line responders tasked with combating the impact of the region's social poverty on its youngest generation.
___________________________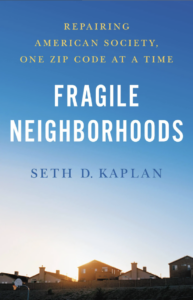 Excerpted from the book Fragile Neighborhoods by Seth D. Kaplan. Copyright © 2023. Available from Little, Brown Spark, an imprint of Hachette Book Group, Inc. All rights reserved.