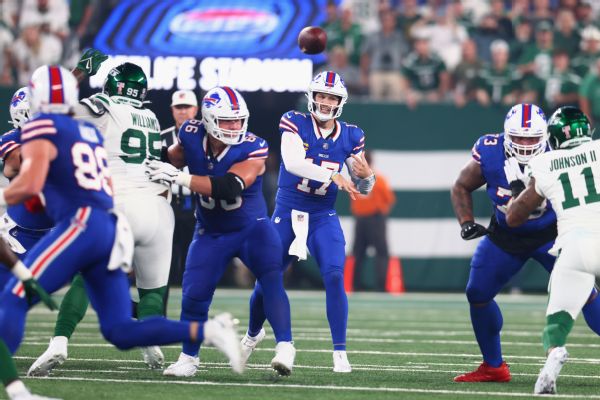 EAST RUTHERFORD, N.J. — There was an eerie familiarity to Buffalo Bills quarterback Josh Allen's demeanor in the visitors' locker room at MetLife Stadium on Monday night.
After a dismal performance in a loss to the New York Jets last November, Allen sat in front of his locker looking ahead, speaking with the team's backup QBs, and showing visible frustration.
Flash forward 10 months as Allen — following a 22-16 overtime loss to those same Jets to open the 2023 season — sat on a stool in front of his locker, again at MetLife Stadium, talking with a new backup quarterback, Kyle Allen, as wide receiver Stefon Diggs came over to offer some words of encouragement.
But the frustration? That remained the same. And the familiar feeling wasn't lost on Allen.
"Trying to force the ball," Allen said of his turnovers, pausing with a deep sigh. "Same s—, same place, different day."
Following an offseason and lead-up to the regular season spent emphasizing the importance of reducing turnovers and making smarter decisions on the field, Allen walked into MetLife Stadium on Monday night and did anything but.
Allen turned the ball over four times against the Jets, matching his career high (2019, also in season opener vs. Jets). That included three second-half turnovers that played a significant part in the Jets working back from a 13-3 halftime deficit. All of that came a year after Allen led the league in turnovers (19).
"I hurt our team tonight. I cost our team tonight," Allen said. "It feels eerily similar to last year and I hate that it's something. I do."
He now has 84 turnovers since entering the league in 2018, the most during that time frame. In his sixth season, Allen is also now the quarterback with the most overtime losses, including postseason, without a win or tie (0-5), according to ESPN Stats & Information research.
"It's a long season in the NFL," Bills coach Sean McDermott said. "And unfortunately, sometimes you have to be reminded of these things. And it hurts with a loss, right? And so, it's a constant, constant reminder during the week of: 'Hey, take care of the football — take the football away, that wins games when you do that,' and in this case, it loses games."
Allen, 27, finished the day 29-of-41 passing, throwing for 236 yards and one touchdown. He threw three interceptions, was sacked five times, and fumbled once. Three of Allen's four turnovers came in the second half, including a late fumble that gave the Jets the ball at the Bills' 27-yard line with 4:51 remaining in the game. All three interceptions were picked off by safety Jordan Whitehead but were intended for three different receivers.
Despite the Bills adding new playmakers on offense, the inconsistency and difficulty in making plays against a tough Jets defense remained, including going three-and-out after getting the ball at the start of overtime.
"Our guys played so hard. Defense gave us opportunities," Allen said. "They played a heck of a game, and it sucks when you feel like you're the reason, and I am the reason why we lost tonight."
The Bills defense was able to limit quarterback Zach Wilson, who came in after Aaron Rodgers was injured on the Jets' first drive, to just 140 passing yards, but did give up 172 rushing yards, including an 83-yard run by running back Breece Hall. The Jets were able to score 13 points off the Bills turnovers and put up 10 total points on the final two drives of the fourth quarter.
Allen and the offense had moments in the game, notably an 11-play, 75-yard touchdown drive in the second quarter that marked the Bills' only touchdown of the day. The offense also put together a nine-play, 53-yard drive at the end of the fourth quarter that forced overtime thanks to a 50-yard Tyler Bass field goal that banged off the left upright and in.
But throughout the game, the offensive line struggled, including right tackle Spencer Brown, and the team's receivers struggled to get open with Allen trying to force the ball downfield.
"There's some good, but we lost and there's definitely some stuff we can do to just assist in making Josh feel like he doesn't have to be a superhero back there," center Mitch Morse said. "So for us it's just trying to do our job so he doesn't feel like he has to put everything on the field."
Trying to do too much and force balls downfield was once again part of Allen's downfall. He was 4-for-9 with all three interceptions on throws of 15 or more air yards downfield, and all three of the interception throws came against the Jets' standard pass rush, tied for the most such interceptions in a game in his career.
His completion percentage in the first half was 81%, completing 17 of 21 throws, while getting sacked three times despite the Jets blitzing him on only three of his 27 dropbacks (11%). The Jets increased the blitz in the second half and overtime (8-of-22, 36%) and his completion percentage dropped to 60%.
The Bills will have a quick turnaround, hosting the Las Vegas Raiders on Sunday, and must find some sort of reset to get closer to making Allen's offseason goals reflect on the field.
"I'm telling him we got to be smarter, and he knows better, and he can't do that. And the coaches are doing the same," McDermott said of his words to Allen during the game. "And listen, he's hard on himself. … He wants to win and sometimes that's what at times gets the best of him."